It's baseball season, and I'm halfway done with a pair of socks as a birthday gift for a friend who is a huge Detroit Tigers fan. Even though the socks are only halfway there, my work here is done! That is because
Angie
and I decided to knit them together for a mutual friend, and we agreed that I would knit the feet and she would finish the legs.
Your turn, Angie!
Angie has a good eye for color, and I think she did a pretty good job finding 2 yarn choices to match the Tigers' orange and blue: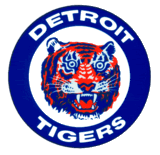 Source
: Free download can be found
here
. The pattern was also published in Interweave Knits, and
Favorite Socks
.
Materials: The orange yarn is Madelinetosh tosh sock in "tomato", and the blue yarn is Miss Babs Yummy Toes Monochrome sport in "regent".
Modifications: The original pattern calls for top-down knitting. I made these seamless by knitting them toe-up with a provisional cast-on. The 2 yarns we are using are slightly different weights so I knit the heels and toes on US 0's and the rest of the foot US 1's to even out the gauge.
Baseball season is also one of the reasons I haven't posted much lately. I am lamenting the fact that in years past, I was able to knit an entire sweater during the time I would spend watching our son's baseball practices and games. When he was younger I would drive him to Little League practice and stay at the field rather than driving back and forth twice. It was a great excuse to sit and knit for an hour or so while I watched the kids play. Now that he is in high school, I don't need to drive him to practice, and I am busy acting as the volunteer scorekeeper during the games. Being a normal (is there such a thing as a normal 14 yr. old?) ahem, I guess I mean, typical 14 yr. old, he doesn't really want his mom hanging out at the baseball field unnecessarily. That would be too embarrassing! But you know what, isn't it our job to embarrass our teenagers? Knitting and watching baseball is one of my favorite Spring pastimes. Now that I'm done with the socks, I just might have to cast on for a sweater and go watch today's practice!